I had a great time visiting Edinburgh, Scotland this week.
A stroll through Edinburgh pic.twitter.com/4KebmafYiO

— Chris Aniszczyk (@cra) October 20, 2013
I'm thankful to have the opportunity to keynote at LinuxCon Europe 2013.
Chris Aniszczyk: Twitter is of course all running on Linux, why would you need anything else? #linuxcon pic.twitter.com/ZiRrLzfBVL

— The Linux Foundation (@linuxfoundation) October 21, 2013
I took the time to talk about the evolution of the Twitter Stack over the years and how we moved to the JVM. I also discussed the importance of open source in that transition and how we give back since participating in open source isn't a zero sum game.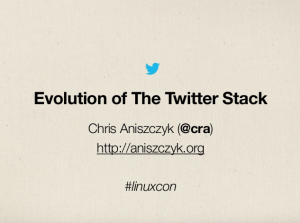 It was definitely fun!